Roland F.B. hat ein Remake von PACMAN mit FENIX veröffentlicht. Das ganze ist zwar ein bisschen anders als das Original aus den '80ern, aber seht selbst: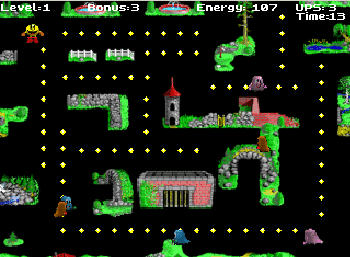 Heruntergeladen werden kann es hier.
Hier sind noch seine Anmerkungen zu diesem Spiel:
PACMAN REMAKE:

Is a game based on the traditional Pacman of NAMCO, this version is a little
different from the original one from 80's since the player cannot touch the
walls of the levels so that him minimized its levels of power and their lives
in the game, must escape of all the ghosts and to advance until I complete
level to win in the game.

SYSTEMS

This game run in:
· DreamCast
· Microsoft Windows 98, Me, 2000, XP Home Edition, XP Professional.
· Linux Suse, Red Hat
· Mac OS X
· BeOS
· GP32

With power to the fenix ports. 0.84 version.

LANGUAGE

The user can change the language of the game is to
say can be in Spanish or English.

HISTORY

This version contains all the history of the origin and
development of pacman in the time.
Quelle: pacman32.iespana.es (Danke an dreamcast.es und pdroms.de für die Info)