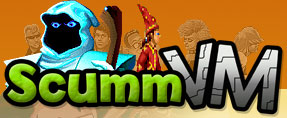 Eine neue Version des beliebten Interpreters ist erschienen.
Neben Fehlerbereinigungen und kleineren Veränderungen werden 5 weitere Spiele unterstützt:
The Neverhood
Mortville Manor
Voyeur
Return to Ringworld
Chivalry is Not Dead
Was als Interpreter für LucasArts Adventurespiele begann, ist mittlerweile zu einem sehr vielseitigen Programm herangereift. So kann man u.a. auch Spiele von Sierra (SCI, AGI), Kyrandia-Reihe, Goblins Elvira usw. spielen.
Downloadseite: http://scummvm.org/downloads/взять ипотеку без взноса
Neben einer Dreamcastversion, gibt es eine Umsetzung für viele weitere Systeme.